Interesting news from the world of Ukrainian women
Ukrainian women undress eagerly in exchange for beer
In Ivano-Frankovsk an action named 'Healthy future or beer alcoholism?' took place on the Town's Meeting Square in the course of which girls undressed in exchange for beer that all those who wished to see naked beauties refused and poured it into a can.
Organizers of this ambiguous action noted that through such an event they made an effort of dispelling a myth popular among men that 'there can be no ugly girls, there can be too little beer'. 'We destroy this myth, as there are beautiful girls and they want to see non-drinking and healthy men with them,' said co-organizers of the action. They also reminded that this year Ukraine has taken the 1st place in the world according to the level of juvenile alcoholism, that's why this measure is a kind of a prevention of a threat for the nation.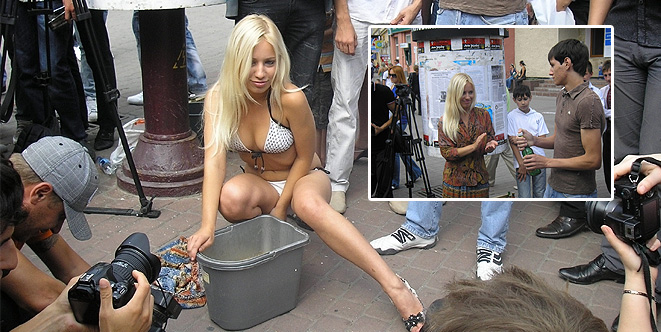 On the 13th of June 2014 the XXL Men's magazine chose the most beautiful girl of Ukraine
Yesterday in an open-air entertainment complex 'Dali Park' in Kiev an awesome final of MISS XXL '90-60-90' beauty contest took place. An established men's magazine XXL in the person of a managing editor and a star jury were choosing the most beautiful and sexy contestant.
To come through to the final girls first had to fight for victory in voting which had been held on the edition's site xxl.ua where all those wishing could vote for a contestant they liked. As a result, more than a hundred of Ukrainian beauties fought for a title of 'The most beautiful girl of Ukraine' according to the version of men's magazine XXL. However, only 11 best girls were lucky and came through to the final.
The final of the beauty contest MISS XXL '90-60-90' was bright, colorful and memorable. Girls took part in the T-shirts and sweatshirts show with prints from Ukrainian designers, and participants defiled in classy Lingerie underwear.
Many various and valuable prizes were drawn among contestants. A girl Lana Landsberg from Kiev got the main prize and the title of the most sexy and beautiful girl, applauses, liters of champagne, and all the other contestants' envy.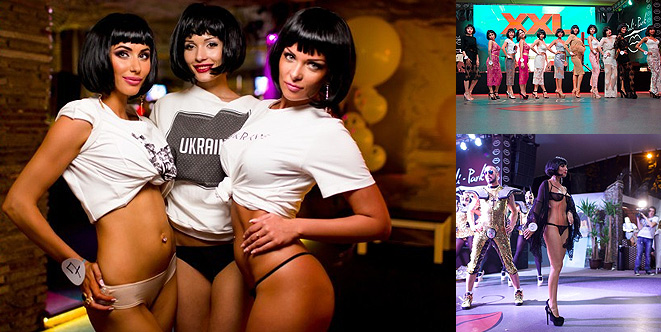 English journalists were surprised at Ukrainian female border guards' beauty
Ukrainian female border guards found themselves on pages of a famous British newspaper Daily Mail. English journalists were surprised at the beauty of our girls in 'Borispol' airport. In the newspaper it is written that 'Ukrainian airport workers are not at all like female border guards in other countries. They wear a beautiful manicure, an ideal make-up and haircut'.
An article in Daily Mail caused a whole flaw of readers' opinions on the edition site. Practically all the discussing readers agreed for a pat-down by such guards. 'Oh my God! I am ordering a flight to Kiev for tomorrow', writes an American Rod from Austin. His compatriot Jan adds: 'They are thousands times nicer than disgusting body-builders whom I came across not long ago on a German border'. A dozen of British men demand inviting Ukrainian girls to work in their airports.
'At least for the Olympiad time, – writes George. – Experienced tourists who have already been to Ukraine admit that airport workers are just a top of an iceberg. 'Local women are the most beautiful in the whole Europe!', considers David. A Frenchman with a British citizenship repeats after him: 'I have been to Ukraine for ten times already in the last five years'. So I can acknowledge that Ukrainian girls are real beauties. And they are ready to starve spending all their money for clothes and make-up.' A reaction of a German guy Frank is calmer: 'I had to come across an awful service in Ukrainian airports. That's why the main thing is that these beauties who still wear a military uniform for some reason treat their guests not as they used to do it during the Soviet times.' However, nobody questioned a unique character of the magnificent border guards' appearance.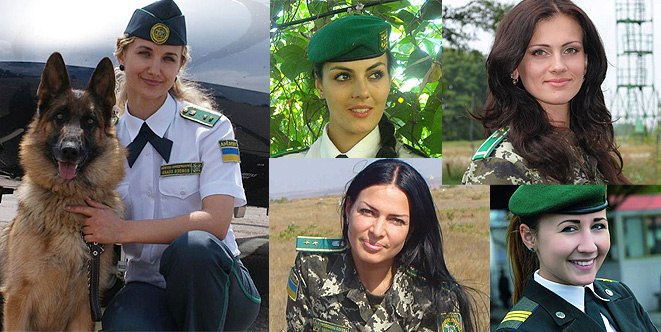 READ ALSO: In Kiev one counted how many girls contracted a marriage with foreigners in 2013. Every tenth citizen of the capital (9,4%) from the total number of brides preferred to marry a foreigner. Why? It is logical to start with reasons. Ideally, the reason is one – love. It happens so: two people met and understood that they are created for each other. But the majority of girls turn to international dating agencies on purpose. So why do Russian girls marry foreigners?
MEET AND DATE: THESE LADIES ARE ONLINE NOW! VIDEOS & CHAT AVAILABLE!